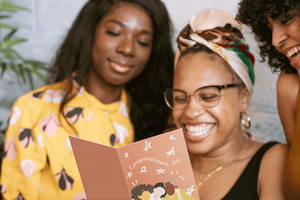 Aya Paper Co. is a sustainable stationery brand that creates greeting cards and gifts to celebrate the people and moments that matter most.
When Founder and Creative Director SaVonne Anderson began conceptualizing plans for Aya, the well-being of the earth was at the front of mind. As an advocate for environmental justice, she wanted to ensure that Aya Paper Co. didn't perpetuate issues like climate change and pollution, which disproportionately impact communities of color.
as seen in
Our Values
Authenticity
We design products that encourage folks to celebrate themselves and their loved ones in authentic ways, with a focus on the modern Black experience.
sustainability
We believe that being good to people and being good to the planet go hand in hand. Our priority is to responsibly use and protect the earth and its resources throughout our operations.
Learn more
COMMUNITY
We give back to our local community (and our customers) through material resources, education, and advocacy.
Our founder
SaVonne Anderson
Aya Paper Co. was founded in 2019 by SaVonne Anderson, while she was working full time as a graphic designer at a NYC contemporary art museum. She was inspired by notes of encouragement received by friends and family over the years to create a line of stationery that brings an authentic sense of joy and celebration to life's daily moments.
As the Creative Director, SaVonne prioritizes creating high quality, sustainable products that represent the diverse Black experience.
Our Team
Jaquasia Zlu-Cornish
Sales and Operations Manager
Nneka Watkins
Kheprisa Burrell